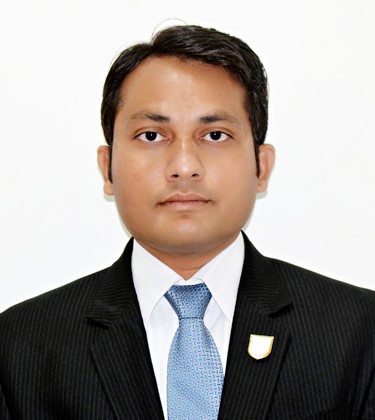 Mr. Sujit Gulhane
Assistant Professor, CTF-MPSTME
M.E. (Textile Engineering) from IIT Delhi, 
B.E. (Textile Engineering) from JDIET, Yavatmal (MH)

Areas Of Specialization
Textile Engineering

Awards & Achievements
Secured 43 All India Rank In GATE Exam 2008

Publications & Presentations
1) Effect of Yarn Stretch in Sizing on Loom Performance, Iinternational Journal on Textile Engineering and Processes, Vol. 2, Issue 4, October 2016, Pag. 19-23.

2) Impact of E-Commerce in Development of Small and Medium Scale Industries, 4th International Conference On Governance System, Organized By Gujarat Technical University, 2-3 September 2016.

3) Development of 3D Knitted Fabrics For Composite, National Conference on Emerging Trends in Productivity Organized by Department of Textile Technology SGGS Institute of Engineering & Technology, Nanded, 10-11 January 2014.

4) Conductive Cotton Fabric Develop by In-Situ Polymerization of Aniline, Melliand International, Technical Textile July 2015 Page No. 108-110

5) A Review on Structure-Property Relationship of Knitted Composites, International Journal of Research in Advent Technology, Vol. 2, Issue 5, 2014, Page 208-2010.

6) Structure-Property Relationship of Knitted Composites, Melliand International, Technical Textile October 2014 Page No. 140- 141.

7) Importance of Effluent Treatment in Textile Wet Processing, Conference on Apparel and Home Textiles, organized by SSM college Selam, Coimbatore, 12 August 2007.

8) Application of Pneumatics in Textile Industry, Texora, National Level Paper Presentation, 26 February 2007.

Seminars/ Workshops/Conferences Attended
1) Research Methodology Analysis & Paper Writing, ISTE approved two weeks Short Term Training Program, organized by JDIET, 6-15 April 2015.

2) Cotton, Textile & Apparel Value & Supply Chain: Global Opportunities & Challenges, Conference organized by Textile Association India, 2015.

3) Quality Improvement Programme, on, Geosynthetics: Manufacturing Application & Analysis, AICTE Sponsored, Organized by Textile Manufactures Department, Veermata Jijabai Technological Institute, Matunga, Mumbai, 6 th to 10 th January, 2014

4) Short Term Program on Technical yarns, two days, workshop orgainsed by DKTE Ichalkaranji, 2014.

5) Recent Advances on Cotton Testing, 'RACT-12' one day workshop organised by JDIET, Yavatmal, 2012.

6) High Impact Teaching Skills, Mission 10X Dale Carnegie Certification , one week workshop organized by Wipro, 2010.

7) Advance Workshop on Faculty Improvement, Two days, workshop, organized by Wipro, 2010.

Official Email ID
sujit.gulhane@nmims.edu