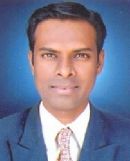 Mr. Amarjeet M. Daberao
Assistant Professor
M.E  (Textile Technology), B.E  (Textile Technology)

Areas Of Specialization
Textile Technology

Research
* Publications – 4 Journal Papers (02-International & 01 National) + 01 Books

Book:
A.M.Daberao, S.AGARKAR Natural Dyes - Extraction, Dyeing & Quality Assurance Tests, Lap Lambert Publication, Germany 2014-10-20

Journal Papers – International
AMARJEET DABERAO, VIJAY SHIVANKAR, EFFECT OF VARIOUS PARAMETERS ON DYEING OF POLYESTER COTTON BLEND",innternational Journal on Textile engineering and Processes,ISSN: 2395-3578,Vol 1, Issue 4, October 2015
A.M. DABERAO, Dr.S.K. CHINTA.; S.B.MHETRE,Hygienic Super Absorbent Terry Towel",in International Journal of Engineering Research & Technology, Vol.2 - Issue 6 (June - 2013)-ISSN: 2278-0181 ,11-06-2013
Journal Papers – National
A.M. DABERAO, Dr.S.K. CHINTA.; S.B.MHETRE, Super absorbent Fibers and Antimicrobial Activity: A Textile Review", in Man-Made Textiles in India . Jan2014, Vol. 42 Issue 1, p13-17. 5p.
Presentations: Papers (2-National)
A.M. DABERAO , S.H. SAUDAGAR ,Presentation of texturizing material in National conference Held at Anuradha Engineering college, Chikhli in year Feb 2012.
A.M.DABERAO Presentation of printing of various types of dyes in STP programme held in Anuradha Engineering college held in august 2013.
Conferences / Workshops / Seminars attended
Emerging Trends In Textile Industries, (Three days) TAI arranged near vidhanbhavan,NAGPUR
New Technologies Adopted By Textile Industries In Spinning, (four days) Arranged by TAI at ambala.
Official Email ID
amarjeet.daberao@nmims.edu