Lecture on 'Higher Education Opportunities in Germany & Europe' by Ms. Niketa Dedhia, Principal Consultant, Exponent Consultancy Services
Date: 27th March, 2017
Time: 05:00 PM to 06:00 PM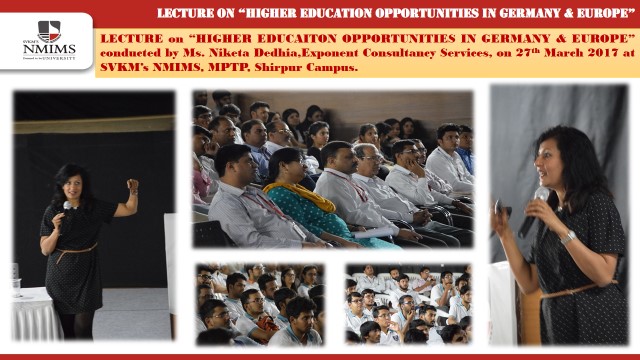 With the view of providing professional guidance to students, SVKM's NMIMS Shirpur has organized lecture on 'Higher Education Opportunities in Germany & Europe' by Ms. Niketa Dedhia, Principal Consultant, Exponent Consultancy Services at Auditorium, C Wing for MPSTME and SPTM school.
Prof. Anurag Joshi, Asst. Professor, CE/IT Dept. MPSTME Shirpur welcomed the guest and audience, followed by introduction of the guest speaker by Dr. Ashwini Deshpande, Associate Dean, STPM Shirpur.
More than 300 students, faculty and staff member have attended the program.
Ms. Niketa Dedhia guided students about the opportunities of the Higher Education in Germany and Europe. The session was followed by Question – Answer round where students enthusiastically presented their queries related to the topic which were addressed by Ms. Niketa.
At the end, felicitation of the Guest was done by Dr. R. S. Gaud, Director NMIMS Shirpur followed by vote of thanks by Dr. Nitin Choubey, Professor & Head – CE/ IT Dept. MPSTME Shirpur to all students, faculty and staff.
Glimpses of workshop: