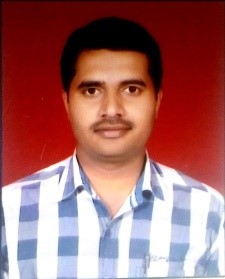 Mr. Pravinkumar B. Landge
Assistant Professor

M.E. (Computer Science & Engineering) from MIT, Aurangabad (MH)
B.E. (Computer science & Engineering) from MBES, COE, Ambajogai (MH)

Work Experience : 
• 10+ years
Professional Membership
CSI Lifetime Membership
ISTE Lifetime Membership
Awards & Achievements
NPTEL Online certification for course "Programming, Data structures and Algorithms using Python" with Elite grade
Publications & Presentations:
International Conference on Recent trends in Engineering and Technology (ICRTET) at SNJB's Late Sau K. B. Jain College of Engineering, Chandwad, "User Navigation Pattern Prediction Using Longest Common Subsequence", Feb 2013.
International Level Seminar on Recent Trends in Engineering and Management at SRES COE Kopargaon, "Discrimination of DDoS Attacks from flash crowds using similarity metric among the suspicious flows", Feb 2016.
National Conference on Enhancing Employability through Skill Development Program at SRES COE Kopargaon, "User Navigation Pattern Prediction using Web Mining", Jan 2015.
International Journal of Advanced in Management, Technology and Engineering Sciences "TO IMPLEMENT DATA SECURITY IN CLOUD COMPUTING ENVIRONMENT", Volume 7 Issue 11, Nov 2017
Seminars/ Workshops/Conferences Attended
Two days' Workshop on "Bigdata and IoT" organized by SRES COE and SPPU at SRES COE Nov 2016.
Two days' Workshop on "Recent trends in pattern classification" organized by SRES COE and SPPU at SRESCOE Jan 2016.
One day workshop on "Virtual Lab" organized by Mechanical department SRES COE April 2016.
STTP on "Local Binary Patterns" organized by SGGS Nanded in Oct 2015.
Organized "National Network Security Championship" February 2014 in association with ACM IIT Delhi and SRES COE Kopargaon
Effective Research Methodology organized by Research Forum S.R.E.S. COE Kopargaon on 31st Jan 2010.
National Seminar on "IT Enabled Education Transformation organized by CSI Nashik Chapter at Ashoka Institute of Management and technology, Nashik on 12th-13th Dec 2008.