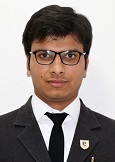 Mr. Achal Agrawal
Assistant Professor

M.Tech. (Structural Engg) from SIMS, Indore (MP)
B.E. (Civil Engg) from SIMS, Indore (MP)

Areas of Specialisation
Structural Engineering

Professional Membership 
• ISTE

Publications:
"Assessment of Properties of Concrete with Partial Replacement of Various Constituents" in International Journal of latest trends in Engineering and technology (IJLTET), May-June 2016. 
"Effect of Salt Water on Mechanical Properties of Conventional and Pervious Concrete" in International Journal of Innovative Research and Development (IJIRD), May-June 2016. 
"A Concept of Improving Strength of Concrete Using Human hair as Fiber Reinforcement" in International Conference on Emerging Trends in Engineering & Technology, April 2016. 
"Use of Plastic Aggregates in Concrete as a Replacement of Natural Coarse Aggregates-A Review" in National Conference on Innovative Trends in Applied Sciences, Humanities, Management & Environment at SVITS, Indore, Oct 2014.
"Proposed Municipal Solid Waste Disposal Technique Based on Waste to Energy Concept for Khandwa City" in National Conference on Innovation in Renewable Energy (NCIRE-2014), MIST, Indore, Sep 2014.
Seminars/ Workshops/Conferences Attended:
International conference on "Artificial Intelligence in Health Care" at NMIMS, Shirpur campus, 26-27 Dec, 2016. 
Two week ISTE STTP workshop on "Introduction to Structural Engineering" conducted by IIT, Kharagpur, held under National Mission on Education through ICT (MHRD), Dec'15 to Jan'16. 
International conference on "Emerging Trends in Engineering & Technology" conducted by Institute of Technical and Academic Research", April 17, 2016 
One day research conference SPANDAN 2016 at SVITS, March 12, 2016 
National conference on "Innovative Trends in Applied Sciences, Humanities, Management & Environment at SVITS, Indore, Oct 2014
National Conference on "Innovation in Renewable Energy", MIST, Indore, September 27, 2014
One day workshop " Corporate Ready @ Campus" at IIM, Indore, September 2015
Two days' workshop on " Emerging trends in Geo-Environmental Engineering" At IPS Academy, Indore, March 16-17, 2012