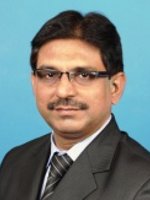 Dr. Manojkumar Deshpande
Professor & Associate Dean
Associate Dean's Message 

Dear All
Welcome to the Shirpur Campus !
SVKM's NMIMS, Mumbai has set up its first off-campus at Shirpur, which is the brain-child of Hon. Shri. Amrishbhai Patel. The Apex Management of NMIMS to convert this campus as Centre of Excellence in higher education and research in a pharmacy, technology and management.
The Shirpur Campus of Mukesh Patel School of Technology Management & Engineering (MPSTME) has been developed with State-of-the-Art educational, residential and recreational facilities such as fully air-conditioned classrooms, huge Central Library, common rooms, seminar halls and laboratories at par with research and industry standards. The campus is served by a Wi-Fi enabled networking facility with latest hardware equipment and software. Seamless integration of academic activities with Mumbai Campus is achieved through BLACK-BOARD Learning Management System.  The office work is backed by fully functional SAP implementation.
With excellent track record of SVKM's institutions, the campus has attracted experienced and dedicated faculty from IITs, NITs, foreign Universities and reputed industries. Guest faculty are invited from Mumbai, Pune, Indore etc. 

From the admission of the very first batch, the brand NMIMS has attracted high caliber students to the Shirpur Campus. At present student from different places of the country are studying in campus. They are achieving remarkable academic success and enjoying socially and culturally rich campus life. Excellent hostels, hygienic mess, huge playgrounds, modern gymnasium and recreational facilities are available in campus and around. We promote and motivate students to organize and participate in activities useful for "All-round Professional and Personality Development"  to face the challenges of the future career at international level. We also encourage students to get involved in social activities to become responsible citizens.  Industry-Institute Interaction is promoted by calling industry experts to campus and by sending faculty as well as students to industry for visit, training and internship. Our top level management is keen to put additional effort to develop Soft Skills, Entrepreneurship and Leadership qualities amongst the students.
We are committed to maintain high standard in technology and management education. Ethically rich and professionally competent environment at campus is adding value to shape young minds. We are confident that, year-by-year; all-round initiatives of all concerned will make Shirpur Campus the epicenter of knowledge sharing to nurture budding technocrats and techno-managers.