Report of the conference
The academic conference was held on 18.02.2017 by the departments of Applied Science and Humanities and Mathematics, in MPSTME Shirpur, to encompass possible discussions on the emerging sub-topics and current issues. Of course the Conference is such a platform that enriches academic and research inputs and all the more it is done by meeting academic heads on such activity. The occasion was more important because it was an attempt to cover up three major streams of education, Science, Humanities and Management.
The program started invoking and worshiping Goddess Saraswati and thereafter eminent guests were welcomed. The Chief Guest was Dr G S Mani an alumni of IIT Delhi worked as Scientist for 40 years in DRDO and retired as Director and Dean of Institute of Armament and Technology, Pune. Among the guests, the Guest of Honor was Mr Tapan Mukherji, Director of Tech-Force Composite Private Limited and additionally he owns a couple of companies. On the occasion, Mr Sanjeev Pillai working as Chief Manager in Bharat Petroleum Corporation (Training and Development) also participated as the Distinguished Speaker.
Further the guests were invited to share and bless the occasion with few introductory words and they also unanimously appreciated the efforts put in by the organising committee to carry out this academic activity. The souvenir was inaugurated by eminent guests.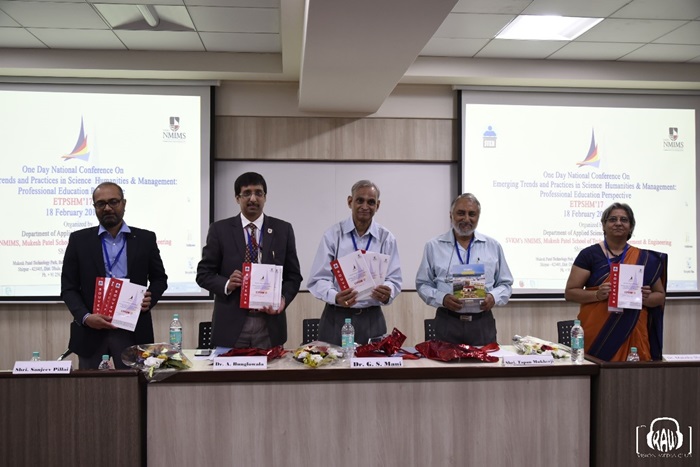 After this Dr G S Mani delivered first plenary talk, in which he shared valuable inputs about correlation in human life seeded in natural aspects under the title "Understanding complexity in nature-A journey'' unfolding the complexity of nature in most beautiful manner. He explained how there is simplicity due to deterministic laws of nature which are not only to predict but also to direct the behaviour with random unaccountable elements which lead to unpredictability. The second plenary talk was delivered by Mr Tapan Mukherji, he took three very interesting session and explained in most simple manner how simple systems having considerably high complexity are only delicately situated between regularity and irregularity, order and disorder. A fine delicate balance is required for a fairly complex system. Life is nothing but a balancing act between all its factors- physical, environmental including emotional extremes. He also asked many quizzes which absorbed minds of participants. In the sequence third plenary speaker Mr Sanjeev Pillai delivered his plenary talk on emotional intelligence. He gave a very kaleidoscopic representation of human behaviour under the shadow of emotions. In his session he took a number of examples to correlate the theme and concept of human behaviour emerging out of discrete emotional situations.
The vote of thanks for the welcome session was delivered by Prof Sameer Mitra who thanked one and all and each dignitaries for being present with us on the occasion.
The Chair and Co-chair of the plenary session were Dr Ashwini Deshpande Associate Dean SPTM and Dr P P Raichurkar Associate Dean CTF.
The vote of thanks for the inaugural session was delivered by Dr Aaquil Bunglowala and Prof Rajendra Agarwal informed the delegates regarding planning and conduction of technical sessions where groups were divided into three different tracks- Science including Physics, Chemistry and Mathematics.
The track two was for humanities and Management and the third track was separated for students because of overflow of young researchers and scholars, participating in the conference.
The event was of course full of learning and could attract the very enthusiastic feedback from all the participants. They also appreciated the state of art infrastructure of the institute.