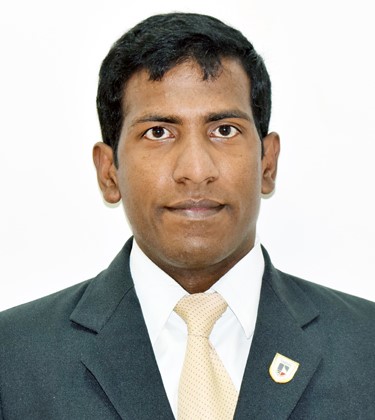 M. Ramachandran
Assistant Professor

PhD Pursuing (Mechanical Engineering) from Nirma University, Ahmedabad
M.E. (Computer Integrated Manufacturing) from NI University, Kanyakumari
MBA. (HRM) from MS University, Tirunelveli, Tamil Nadu
B.E. (Marine Engineering) from Anna University, Chennai, Tamil Nadu
Specialization
Composite Materials 
Optimization Techniques
Professional Membership
Institute of Engineers India, Associate Member, IEI No: AM158185-9, Life Time. 
Materials Research Society of India, MRSI No: LMB2800, Life Time. 
Indian Society for Technical Education, ISTE N0. LM-107074, Life Time. 
Indian National Database of Seafarers, INDOS No: 07EL0463, life time. 
International Association of Engineers, IAENG No: 135385, Life Time 
Institute of Research Engineers and Doctors, Associate Member, 2014- 2017
Awards & Achievements
Received Sentinels Of Science Award 2016 for the field of Engineering by Publons, New Zealand, United Kingdom, Award declared by Richard J Roberts (Nobel laureate in physiology in 1992) 
First prize in IEDC Enterpreniual idea competition with cash (Rs 25000) on title biodegradable roofing sheet organized by IEDC Cell, SVKM's NMIMS University, Shirpur Campus. 
Advisory Board Member for national Conference (NCETET 2K15) National Conference On Emerging Technologies in Engineering and Technology organized by Department of Electrical & Electronics Engg on 23th March 2015, St. Thomas College of Engineering and Technology, Chengannur, Kerala. 
Convener for international Conference (ICEMEM2015) International Conference on Emerging trends in Manufacturing, Engines and Modeling organized by Department of Mechanical Engineering on 27th & 28th February 2015, NMIMS University, Shirpur Campus.
Executive Editor for International Journal on Textile Engineering and Processes (ISSN: 2395-3578) by Centre for Textile Functions, MPSTME, SVKM's NMIMS Deemed to be University, Shirpur Campus.
Publications:
M. Ramachandran, , Vishal Fegade, Pramod Raichurkar, Strategy Performance Evaluation of a Port Organisation based on Multi-Criteria Decision Making using Fuzzy Logic Method, NMIMS Management Review, Volume 33, Issue 1, 2017, pp. 27-34. 
Pramod Raichurkar, V. Subramanium, M. Ramachandran, Performance of silk yarn with the Effect of soaking in Mrudula Soaking oil, Colourage, 64(1), 2017, 41-44 [SCOPUS] 
Deepali Mor, M Ramachandran, Pramod Raichurkar, "Optimization of Solid Wastes Disposal Strategy by Fuzzy Topsis Method", Nature Environment and Pollution Technology 16(1):247-250, 2017 [SCOPUS] 
Kanak Kalita, M. Ramachandran, Pramod Raichurkar, S. Haldar, Free Vibration Analysis Of Laminated Composites By A Nine Node Isoparametric Plate Bending Element, Advanced Composites Letters, 25(4), 2016.[SCIE](IF:0.422)
Mohit Arora, akshay ahuja, M Ramachandran, Review on Characterization of Poly Butyl Succinate Based Biodegradable Composites, Research Journal of Pharmaceutical, Biological and Chemical Sciences 8(1):1687-1691, 2017 [SCOPUS] 
Sahas Bansal, M. Ramachandran, Pramod Raichurkar, Analysis of Coir Fiber Poly-Lactic Acid (PLA)/ Poly-Propylene (PP) Resin Reinforced Polymeric Composite, Applied Mechanics and Materials, 152:10-12, September 2016. Trans Tech Publications. [SCOPUS] 
M. Ramachandran, Sahas Bansal, Pramod Raichurkar, Experimental Study of Bamboo using Banana and Linen Fiber Reinforced Polymeric Composites, Perspectives in Science (2016) 8, 313—316. Elsevier Publications. 
M. Ramachandran, Back Propagation Neural Network for Prediction of Some Shell Moulding Parameters, Periodica Polytechnica Mechanical Engineering, 60(4), pp. 203-208, 2016. [SCOPUS]
Akshay Ahuja, M. Ramachandran, Review on Phase Change Material as thermal energy storage for cooling, International Journal of ChemTech Research 9(4):192-196 · May 2016. [SCOPUS] 
Dev Anand, K.A. Janardhanan, R. Rajesh, Ramachandran. M, Fibre Reinforced Plastic Material with Aluminum Filling Used for Ship Superstructure, Journal of Chemical and Pharmaceutical Sciences 9(1):351-355 · May 2016. [SCOPUS] 
M. Ramachandran, , Sahas Bansal, Pramod Raichurkar, Scrutiny of Jute Fiber Poly-Lactic Acid (PLA) Resin Reinforced Polymeric Composite, Journal of the Textile Association, Volume 76, Issue 6, 2016, pp. 372-375. [SCOPUS] 
Simran Agarwal, M. Ramachandran, Optimization of Biomedical Waste Disposal Strategy by Fussy Topsis Method, International Journal of Research in Ayurveda and Pharmacy, 7(2):67-70 · April 2016. [SCOPUS]
Nishant Godbole, Shajit Yadav, M. Ramachandran , Sateesh Belemkar, A Review on Surface Treatment of Stainless Steel Orthopedic Implants, Int. J. Pharm. Sci. Rev. Res., 36(1), 2016; Article No. 33, Pages: 190-194. [SCOPUS] 
Vineeth Nair, Pratul Khosla, M. Ramachandran, Review on Mechanical Properties of Various Natural Fibers Reinforced Composites, Research Journal of Pharmaceutical, Biological And Chemical Sciences. 2016; 7(1): 2001-2004. [SCOPUS] 
Deepali Mor, Sahas Bansal, M Ramachandran, Pramod Raichurkar, Review on Antibacterial, Antiviral, and Antifungal Properties of Natural Diapers and its Effect on Dermatitis, International Journal of PharmTech Research 8 (10), 40-46. [SCOPUS] 
Pulkit Purohit, M. Ramachandran, Selection of Flywheel Material using Multicriteria Decision Making Fuzzy Topsis, Indian Journal of Science and Technology, 8(33), 2015. [SCOPUS]
Patil chetan Vitthal, Chaudhary Saurabh Sanjay, Bhavna R Sharma, M. Ramachandran, Need of Biomedical Waste Management in Rural Hospitals in India, Int. J. Pharm. Sci. Rev. Res., 35(1), 2015, 175-179. [SCOPUS] 
Sneha Khairnar, Pramod Raichurkar, Pranjali Chandurkar, M. Ramachandran, Role of Merchandiser to optimize Manufacturing cost, Journal of the Textile Association, Volume 76, Issue 3, October 2015, pp. 161-164. [SCOPUS] 
Kanak Kalita, Rakesh Chaudhari M. Ramachandran, Mechanical Characterization and Finite Element Investigation on Properties of PLA-Jute Composites, International Journal Of Computer Applications, 123(13), August 2015, PP. 17-21 
Patil chetan Vitthal, Amrutkar Rupesh subhash, Bhavna R Sharma, M. Ramachandran, Emerging Trends and Future Prospects of Medical Tourism in India, Journal of pharmaceutical sciences and research, Volume 7, Issue 5, May 2015, pp. 248-251. [SCOPUS] 
Bihari AK, Ramachandran M, Kumar V (2015) Effect of Process Parameters on Roughness and Hardness of Surface and Dimensional Accuracy of Lost Wax Process Casting. J Material Sci Eng, ISSN 2169-0022, 4: 175.
Sateesh Belemkar, M. Ramachandran, Recent Trends in Indian Textile Industry-Exploring Novel Natural Dye Products and Resources, International Journal on Textile Engineering and Processes, ISSN: 2395-3578, Vol 1, Issue 3, July 2015, pp. 33-41. 
Pramod Raichurkar, M .Ramachandran, Importance of Teaching Automation as an integral part of Engineering at Educational Institutes, International Journal on Textile Engineering and Processes, ISSN: 2395-3578, Vol 1, Issue 3, July 2015, pp. 18-21. 
Alex. S, Stanly Johns Retnam, M. Ramachandran, A review on Biodegradability of Hybrid Bamboo/Glass fiber polymer composites, International Journal of Applied Engineering Research. ISSN 0973-4562 Volume 10, Number 11 (2015) pp. 10565-10569. [SCOPUS] 
M. Ramachandran, V.Aji, A review on Development of a Three Axis Modern pneumatic Trailer applicable to shipping industry, International Journal of Applied Engineering Research. ISSN 0973-4562 Volume 10, Number 11 (2015) pp. 10575-10579. [SCOPUS] 
D. Bino prince raja, B. Stanly Jones Retnam, M. Ramachandran, Analysis of mechanical properties of glass and carbon fiber reinforced polymer material, International Journal of Applied Engineering Research. ISSN 0973-4562 Volume 10, Number 11 (2015) pp. 10387-10391. [SCOPUS]
Seminars/ Workshops/Conferences Attended
Deshpande, R. Gandhi, K. Kalita, M. Ramachandran, A Numerical Study on the Problem of Stress Concentration in Steel Plate, International conferences on Advances in Materials and Product Design, January 2015, SVNIT Surat, ISBN: 9789351969563, Pg. No: 49-56 
P. Chincholikar, A. Commessariat, K. Kalita, M. Ramachandran, Steel plate under Equi-biaxial loading, International conferences on Advances in Materials and Product Design, January 2015, SVNIT Surat, ISBN: 9789351969563, Pg. No: 42-49 
M. Ramachandran, Franklin Antony Libin, V.Aji, Tensile properties of hybrid carbon and glass fiber reinforced plastic, International Colloquium on Materials, Manufacturing and Metrology, IIT Chennai,8th & 9th August 2014, PP.51-52 
V. Aji, M. Ramachandran, Characterization of glass fiber reinforced plastic material with fly ash as a filler material, International Conference on Technological Advancements and Green Governance, Sivaji college of Engineering, Kanyakumari, Tamil Nadu, 10th & 11th April 2014, PP.111
Official Email Id
Manickam.ramachandran@nmims.edu