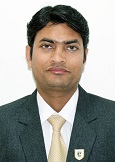 Ashish Mogra
Assistant Professor

M Tech (Mechanical Engineering) from SVNIT, Surat
B.E. (Mechanical Engineering) from MIT, Mandsaur
Areas of Specialisation
Thermal System Design
Work experience 
• 7+ years
Professional Membership
Life time membership of ISTE with member number LM 95966 
Associate Member of IEI with membership number AM163495-2
Publications:
Mogra A., Verma S., "Development of Small Scale Pilot Biodiesel Plant and Production of Biodiesel with Jatropha Oil", REST Journal on Emerging trends in Modelling and Manufacturing, 2(3) 2016, 78-81. 
Mogra A., Verma S., Thomas T., "Fabrication of square microchannel for experimental investigation of two phaseflow using conventional machining process", Recent trends in engineering and material science, Prespectives in science, volume 6 2016 p.p. 231-233. 
Mogra A., Pujara M. P., Kumar L.,"Two phase flow void fraction measurement using image processing technique", International Journal of Mechanical Engineering & Technology (IJMET), Volume 4, Issue 3, May-June 2013, 130-135.
Seminars/ Workshops/Conferences Attended
Mogra A., Patil B., Thomas T., "Analysis of wind turbine blade having I shaped spars usin and carbon fibre using FEM", 5th International Conference on Material Processing and Characterization(ICPMC-2016) jointly organized by MANIT Bhopal & GRIET hyderbad. 
Mogra A., Mehta H.B., Banerjee, J., "Experimental investigation on two phase flow through mini channel with different orientations.", 5th International and 41st National Conference on Fluid Mechanics and Fluid Power held during December 12-14, 2014 at Indian Institute of Technology Kanpur. 
Mogra A., Gorasiya A., Mehta H.B., "A review on various techniques for fabrication of microchannel" in National Conference on Advances of Mechanical Engineering (NCAME-2012), Supported by Council of Scientific and Industrial Research (CSIR), New Delhi, Govt. Of India, at MIT, Mandsaur on 26th -27th Nov.2012 
Mogra A., Ahir P.,"A case study on Implementation of Lean Manufacturing in Cement Industry " in All India seminar on Advances in Manufacturing technologies and challenges of the Decade Ahead(AMTCDA-2011) organized by Institution of Engineers (India) at CTAE, Udaipur on June 18th -19th, 2011.
Mogra A., Ahir P., Sen R.K., "The Prolongation of Biodiesel production in India", in The Renewable Energy Sources-A Plausible Solution to Looming Energy Crisis, sponsored by ministry of new and renewable energy, govt. Of India, at SITE, nathdwara, rajsamand (Raj) on 25th -26th June 2011. 
Two days' workshop on "Special Topics of Engineering Mechanics" organised by NMIMS, MPSTME, Mumbai from 21st Dec. to 22nd Dec. 2016. 
Short term training programme on "Office Communication" during November 2016 organized by SVKM's, NMIMS, MPSTME, Shirpur, Dhule, M.H. 
One week ISTE Approves faculty development program on "Optimization Techniques in Engineering Application", during 14th -18th December 2015, at SVKM's, NMIMS, MPSTME, Shirpur, Dhule, M.H.
One week Short term training programme on "Fundamental and special topic on Fluid mechanics", at SVNIT, Surat from 1st June to 5th June 2015.
Two Week workshop on Fluid Mechanics organised by IIT Kharagpur. 
One week Coordinator workshop on fluid mechanics at IIT, Kharagpur from 11th march to 15th march 2014. 
Participated in Two week ISTE Workshop on Engineering mechanics conducted by IIT, Bombay from 26th Nov to 06th Dec 2013.
Attended a national workshop on "Introduction to finite element method in industrial problems (IFEMIP-2013)" on 6th -7th April, 2013 at GITS, Udaipur. 
Attended the AICTE sponsored national workshop on CAD/CAM organised by department of mechanical engineering from 19th -20th Dec. 2008 
Attended a "Three-Day's, Entrepreneurship Awareness Camp" & get a certificate by "MP CON BHOPAL" (8th, 15th, 22nd Oct. 2007) held at MIT, Mandsaur. 
A Short-term training programmes of "CIPET BHOPAL" & get a certificate by "CIPET BHOPAL" (22nd -23rd Sep. 2006) held at MIT, Mandsaur.