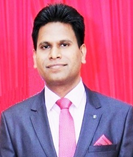 Prof. Pravin Wararkar
Assistant Professor (Department of Electronics & Telecommunication Engineering)

Ph.D(Pursuing),B.E.(E&TC),M.Tech(VLSI),PGDBM,PGDIRPM,PGDOM,PGDN

Mr. Pravin Wararkar is an Assistant Professor in Department of Electronics & Telecommunication Engineering at NMIMS( Deemed-to-be-University), Mumbai, India. He received his Bachelor of Engineering degree in Electronics & Telecommunication Engineering, Master of Technology degree in VLSI and pursuing Doctoral Degree from Nagpur University, India. He also completed Various PG Diploma in Management domain from Nagpur University. With over 7 years of experience in industry and academics, his expertise lies in Electronics engineering & designing of HR Management Policy. He has authored Several Books in Engineering & Management domain. He has also authored over 50 papers in the journals & conferences of international repute and approx. 35 citations, h-index: 4, i10-index: 1 (Google Scholar).He acts as a regular reviewer for reputed journals like "Elsevier, Springer, Taylor & Francis" and IEEE Conferences. He is a Session Chair for Various Technical Events, Seminar & Workshops, He is a member of Various professional Societies like ISTE,IEI,IETE,IAENG,SCIEI,MEASCE,NSPE,UACEE-IRED & E4C.He can be reached at pravin.wararkar@nmims.edu.

Areas of Specialisation
Electronics Engineering

Interest areas
Wireless Communication
Vehicular Adhoc Networks(VANET's)
Embedded System Design
Digital System Design
Research & Consultancy
Grant Received : Rs. 1 Lac
Research Work : Development of "GIS based improved School Bus Routing and Scheduling"
Funding Agency : MGI,NYSS,Atrey Layout,Nagpur

Grant Received : Rs.2,09,363/- (Proposal Submitted ,Waiting for Approval)
Research Work : Wireless operated Token Counter System for auto queuing Purposes
Funding Agency: SVKM's NMIMS (Deemed-to-be-University),Mumbai
Book Published
Total 5 book Published on following Title

Character Recognition by Adaptive Resonance Theory 
Designing of An Performance Appraisal System for Industry
Embedded System
Microprocessors & Micro-controllers 
Embedded System Design
RESEARCH PAPER PUBLICATIONS:47
Sr. No.
International 
Conference
National Conference
International Journal
1
Number of Conference/ Journal
12
5
30
2
Name of Conference/ Journal
IEEE, Elsevier, ACM, CSI, ASEE Society Sponsored Conferences
IETE,ISTE,IEI Society Sponsored Conferences
Elsevier Procedia CS, Scopus, Non-Paid & many reputed Journals
STTP/FDP/Workshops/Seminar/Training /Internship Attended: 30
Academic outreach activities
IETE One Day Workshop on "Learning LaTex By Doing"on 30 July 2016 at SVKM'S NMIMS, MPSTME, Shirpur
IEEE Two Days Workshop on "Electronic Circuit Simulations and PCB Designing" using Circuit Maker & Proteus (ASIS & ARES-7 Professional) Tool on 26-27 October 2015 at SVKM'S NMIMS, MPSTME, Shirpur
Conducted Six Months activity of A view interaction of Blended MOOCs Workshop (BMW) for Signals and Systems Course-(BMWEE210x) from 16th July 2015 to 18th Dec 2015 at SVKM'S NMIMS, MPSTME, Shirpur in collaboration with IIT Bombay under National Mission on Education through ICT(MHRD),Govt. of India
Program Committee Member, IEEE Sixth International Conference on Emerging Trends in Engineering and Technology (ICETET-2013), GHRCE, Nagpur
Various Workshops & Events are organized under Make A Difference (MAD)
Email Id
pravin.wararkar@nmims.edu