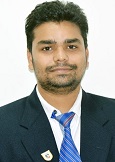 Ankit Kumar Jain

Assistant Professor
M.Tech (Computer Science Engg) from NIT Rourkela
B.E. (Computer Science Engg) from RGPV Bhopal
Areas of Specialization
• Network & Information Security
Work experience 
• 5 years
Professional Membership 
• ISTE (Lifetime membership)
Awards & Achievements
UGC-NET Qualified in Dec 2015. 
GATE Qualified in 2016, 2012, and 2011.
Publications:
"Review of Applications of Intrusion Detection System in Digital Forensics" in International Conference. 
Review Paper On "Mobile Learning: An Emerging Technical Trend" in International research conference.
Seminars/ Workshops/Conferences Attended
Attended (8 days) workshop on "Cloud Security & Privacy" in 2016 at NIT Goa. 
Attended STTP (1 week) on "Optimization Techniques" in 2015 at NMIMS Shirpur (MH). 
Attended "National conference on Emerging trends and practices in Science, Humanities & Management: Professional education perspective" 
Attended "International Conference on Artificial Intelligence in Health Care" in 2016 at NMIMS Shirpur.
Participated in "International Research Conference" in 2014 at ARMIET, Thane (MH). 
Attended "International Conference on Communication, Computing & Security" in 2012 at NIT Rourkela. 
Attended "Faculty development program" at RGPV and GGITM Bhopal. 
Attended "Refresher course on DBMS" at RGPV Bhopal.
Official Email Id
ankitkumar.jain@nmims.edu