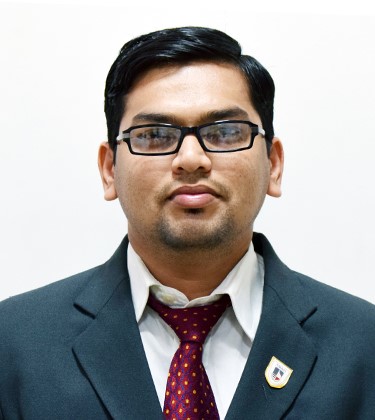 Mr. Bipin P. Jadhav
Assistant Professor
M.Sc. (Mathematics) from Moolji Jetha Colleg, Jalgaon
B.Ed. (Maths/Science) from DES's College of Education, Dhule
Areas of Specialisation
• Fractional Calculus
Work experience
• 9 years
Seminars/ Workshops/Conferences Attended
• NATIONAL CONFERENCE:
"Mathematical Analysis and Applications-2011" at Department Of Mathematics JET's Zulal Bhilajirao Patil College, Dhule. 
77th Annual Conference of "The Indian Mathematical Society" during December 27-30, 2011 organized by School of Mathematical Sciences, SRTM University, Nanded, Maharashtra. 
2nd National conference on "Algebra, Analysis and Fuzzy Mathematics" organized by Department of Mathematics, School of Mathematical Sciences, North Maharashtra University, Jalgaon during January 20-30, 2016.
• WORKSHOP ATTENDED:
Two week ISTE WORKSHOP: "INTRODUCTION TO RESEARCH METHODOLOGY" conducted by Indian Institute of Technology, Bombay.
Two week on BUSSINESS ANALYTICS conducted by SVKM's NMIMS Mukesh Patel School of Technology Management and Engineering. 
One week STTP on "Mathematical Modelling, Optimization, Fractional Calculus and their Computations in Engineering and Sciences" organized by Applied Sciences and Humanities Department, SVNIT, Surat during June 21-June 25, 2016